Patios are the literal bedrock of the functional spaces that you create outside of your home. They allow you to enjoy your garden. Patios are the literal bedrock of the functional spaces that you create outside of your home. They allow you to enjoy your garden in ways that you couldn't if you were relying on raw earth or lawn. en in ways that you couldn't if you were relying on raw earth or lawn.
Laying a patio yourself, however, is a challenge, especially if you've never done anything like it before. In this guide on how to lay a patio for beginners, we're going to show you the secrets the pros use and give you the insights you need to create something that can stand the test of time. You'll learn about the equipment you need, the site prep you have to do, and techniques, like edging and pointing.
Patio Plans
The first step you need to take before beginning your patio installation is to figure out what you'll use the project for. Laying a patio requires a substantial investment of both time and money, so before you even begin the groundwork, you need to know that you're making a sensible decision.
People use patios for all kinds of reasons;
Eating outside in the evenings in the summer with the family
Creating an outdoor entertainment space
Providing flooring for exterior rooms and spaces, like outdoor living areas and kitchens
Creating beautiful courtyards and complementing outdoor landscaping
Room for outdoor games
Next, you need to decide where you'll put your patio. For most people, the best place is immediately at the back of their property, by the French doors. This position allows you to create an indoor-outdoor space and seamless transition.
For others, the best place will be near the kitchen. If your patio plans are to use your patio as an entertainment space, you want it to be a short walk from where you're preparing food and drink.
If your property has multiple access points at the side and back, you can create several adjoining patios to give you flexibility where you spend your time. For instance, if you have a south-facing house, you might want to place one patio on the east side for breakfast, and another in the west for enjoying dinner.
Finally, you'll need to decide on how large you would like your patio to be.
Some people like bijou patios, just large enough for a dining room. If you want a dining space, you'll need a patio that is at least three metre by three metres. For those who want to play games or create an outdoor living room, five metres by five metres (or more) is probably ideal.
How to Measure a Patio
If you want to find out how large your patio paving can be, you'll need to take measurements of the space you have available before patio installation.
Use a tape measure and run it from your walls to your boundaries to check the total amount of space that you have. If you use a retaining wall and don't want to move it, then measure to that point. Always measure twice so you can be sure that you have the sizing right.
Choosing Your Patio Materials
Aside from choosing the size, you'll also need to settle on patio materials.
Concrete patio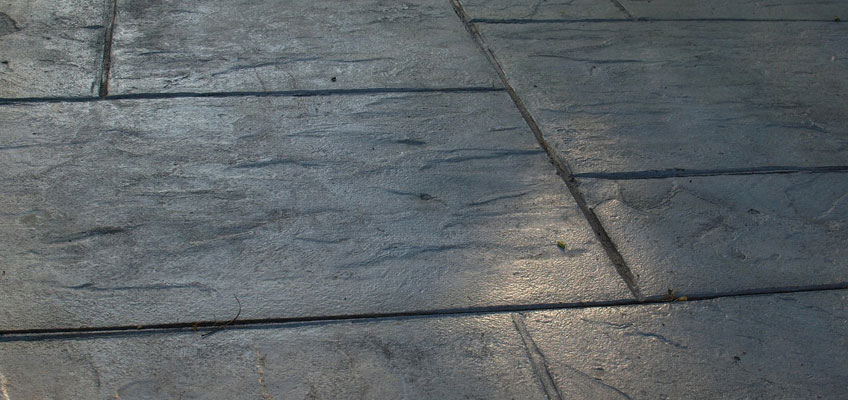 Concrete patio slabs are the most affordable material, but also the least exciting. While they can look smart for a couple of years after you install them, eventually they experience substantial wear and tear, as well as discolouration.
Natural stone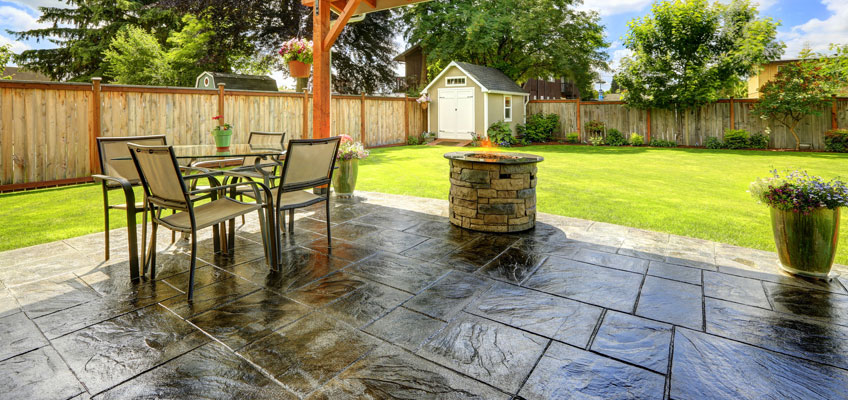 Natural stone is one of the most pleasing from an aesthetic standpoint but also, as you might have guessed, one of the most expensive. The reason for this is not only that the material itself is harder to make than concrete, but also that it takes longer to lay down. It is not the easiest way to lay a patio. However, if you have time on your hands, then it can be a good option.
Brick patio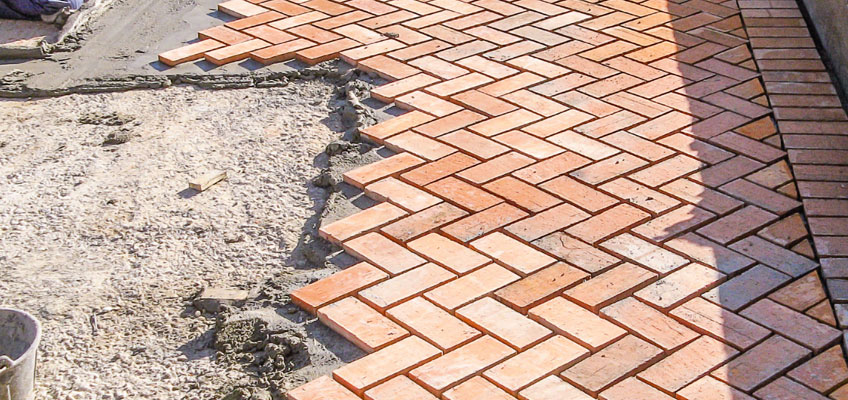 Brick patios are a kind of halfway house between concrete and natural stone in terms of both cost and looks. Brick patios can look great when paired with the right property and are typically less expensive than their natural counterparts. With that said, brick patios come with a significant downside. Because bricks are porous, water can seep into them, freeze, and then expand, causing cracks. Thus homeowners often find themselves having to replace brick patios with others regularly.
Patio paving slabs
Block paving patio slabs are probably the most common variety of patio on the market. These slabs are synthetic but much more attractive than regular concrete. Often they have beautiful designs and come in a range of colours, ranging from blue to red.
Paving stones are one of the best ways for beginners to learn how to lay a patio. All the blocks are of equal thickness, meaning that you do not have to spend hours trying to make them level.
Tools you will need for laying a patio:
Tape measure
Shovel
Rake
Wheelbarrow
Trowel
Cement mixer
String line and pegs
Spirit level
Pegs
Rubber mallet
Laying the Patio
Now that you've decided what you'll use your patio for and the type of material you'll make it from, collected tools and measured your site, you're ready to begin laying. Before you do anything, you'll need to create a mortar mix – something that will hold the patio together. To do this, add five parts sand to one part cement and add water until you get a doughy mix. Making this in a cement mixer helps you keep the mixture moist.
The next step is laying patio blocks. Put down the mortar on the ground in a five cm-thick layer and then add the paving stones on top. Use the rubber mallet to firmly tap them into place, starting from one corner and working your way outward. Place the next slab around 1 cm from the last, giving you room to fill with mortar. If you aren't comfortable with leaving a gap consistently, use a spacer.
Installing patio edging is a vital part of creating a robust patio. Are you wondering how to lay patio edging stones? It's surprisingly simple. Make sure that you have all the edging stones that you need before you begin. First, place edging stones right up against the edge of your completed, paved patio area. This time around, don't leave a gap between the stones. Instead, push them up against each other and secure them into place with a hammer and small amount of mortar. If your stones don't fit, use a chisel to break them apart into the correct shape. Sand down any rough edges, if necessary.
The next thing you need to know is how to point a patio. Pointing patio slabs is where you fill in the gaps between the stones with mortar – again, five parts sand, one part cement with enough water to make it doughy.
Use a trowel to force the mortar between the paving stones, being careful not to move any of them. Also, be careful not to spill any of the mortar onto the stones as it can stick and be difficult to get off.
Leave the mortar to dry for twenty-four hours, by which time the stones will have had time to stick into position.
We can help with your patio installation
If you're struggling to lay a patio yourself, then your best bet is to hire the pros. Complete Driveways & Patios are specialists in patio installation and can help you create the perfect patio spaces for your property. With our help, you can get your dream patio, without having to go to the hassle of learning how to do it yourself. Get in touch with us today to find out how we could help you.
---