Of all the ways you can renovate and add to the exterior of the home, the driveway offers some of the most surprising depth of flexibility.
The size and layout of the driveway are questions in their own right, but the single greatest challenge for homeowners can be deciding the right material for the job.
Here, we're going to look at all of the different materials you can use, and which might be the best solution for your home.
What You Need To Consider
The first question that pops to mind is; "how much does a new driveway cost?"
With this being one of the key factors, it is important to understand what will effect. The cost of a driveway will differ depending on several factors, such as; the types of driveway materials used and the size of the driveway.
The cost can, however, be offset by the proposition of added value to the home. Some driveway materials like pavers and cobblestones can add a significant chunk of curb appeal and value. While it may be tempting to opt for the cheapest driveway surface, it is important to consider several driveway ideas before deciding what is best for you.
Try to ensure that the look of your driveway fits in with the aesthetics of your property by considering the various driveway surfaces to choose from, but bear in mind that the more extravagant driveway materials can also be more labour intensive, potentially pushing prospective driveway prices up!  
A concrete driveway, for instance, might be a natural choice in suburban neighbourhoods where other homes also have concrete driveways whereas tarmac driveways or a gravel driveway might stick out like a sore thumb.
In contrast, you might have a lot more flexibility in solitary countryside homes, high-maintenance materials might be even more of a hassle.
The maintenance required should also be considered. Are you going to need any special cleaning tools to take care of the driveway? Is it easy to repair or do you need to find replacements? How long is the driveway going to last with the right maintenance?
It is advised to consider the driveway prices, the driveway maintenance costs and the value added to your property before making your final decision.
Concrete Driveways
A traditional choice for many driveways, especially in urban and suburban settings, concrete driveways are also known as "cement" driveways though that is just a case of inaccurate titling.
Concrete is one of, if not the most cost effective driveway material currently available for driveways and, compared to some of the other materials mentioned here, is relatively quick and easy to install.
With proper maintenance, a concrete driveway can last for up to 30-years. That maintenance is simple too, often needing little other than a power wash, a sweep, and occasionally some chemical stain remover for rubber and tyre marks.
One of the biggest issues with concrete is its relative weakness to the cold. In extremely cold weather, you may have to de-ice the concrete, which can cause cracks to appear.
When concrete is cracked, there's no easy solution for fixing it. You have to replace the whole driveway, that said, those levels of cold aren't a major problem for most people in the UK.
One more minor downside is that it takes seven days for concrete to set completely, meaning you shouldn't drive on it before then.
The clean look of a concrete driveway, partnered with the colour and design customisability, makes it an appealing and low maintenance option for many homeowners. With many opting for an imprinted concrete driveway, due to its visual similarities to blockwork or cobblestone, without the additional upkeep that comes with those different types of driveways.
If you are considering this as an option for your property, please contact us for an affordable concrete driveway quote. 
Asphalt Driveways
Another relatively easy option to install with lower costs compared to some of the other options named here. Asphalt tends to remain cheaper than concrete regardless of whether you go for basic asphalt or asphalt stamped into shapes like bricks or stones.
Another important property of asphalt is that you can almost immediately drive on it after it's completely installed. It's highly weather-resistant, too, expanding and contracting in the heat and cold without issue.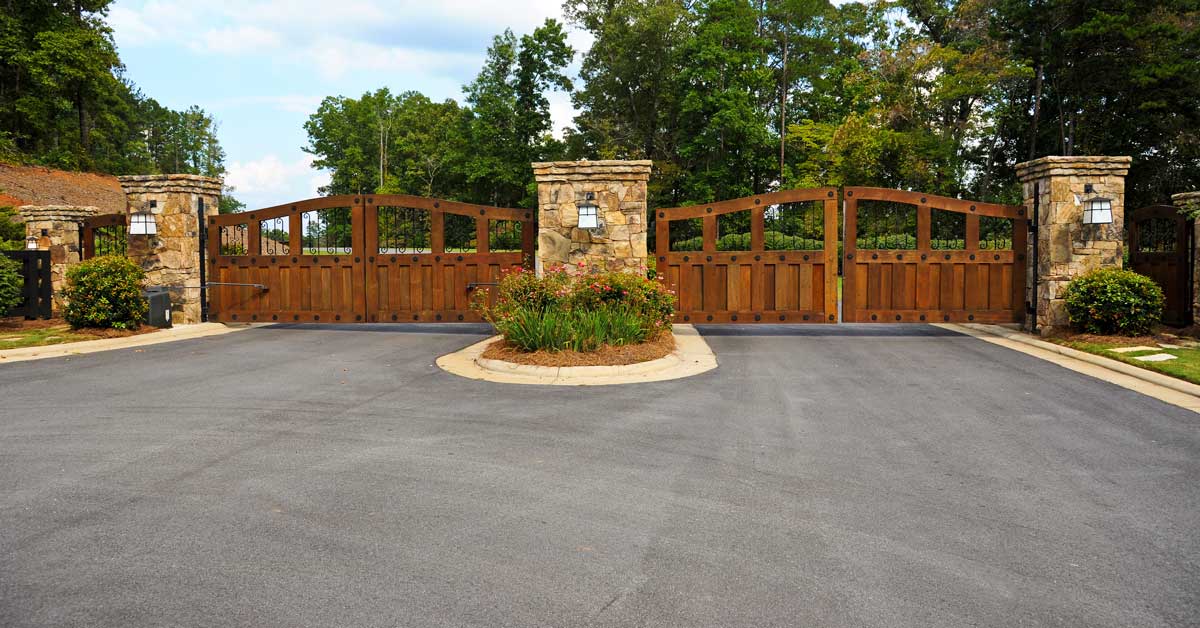 Compared to concrete, at least, asphalt does require a little more maintenance. Cracks and holes can easily be filled, but you have to do it a little more often.
Compared to concrete, it's longevity is a little lower. While concrete will last 30 years with proper care, asphalt tends to live around 20 years instead.
Asphalt may not have the aesthetic appeal of concrete but if you have a larger driveway, it is one of the most cost-effective and quickly setting solutions out there.
Gravel Driveways
Gravel driveways are made from a simple mix of rock, sand and clay that's larger than a grain of sand but smaller than a cobble.
Despite its looseness, gravel is easily compacted into a sturdy, reliable shape. Like asphalt, it's a very low-cost option. Unlike asphalt and other solutions, gravel driveways can last you a lifetime, provided they get the proper maintenance.
Maintenance isn't expensive and doesn't require any special tools. Gravel's well-liked for giving the natural look to homes, especially since choosing different bases can give it a different colour tint. In natural environments, warmer-colour gravel can give the home some real curb appeal. Different samples of coloured gravel for driveways can be requested from your chosen contractor.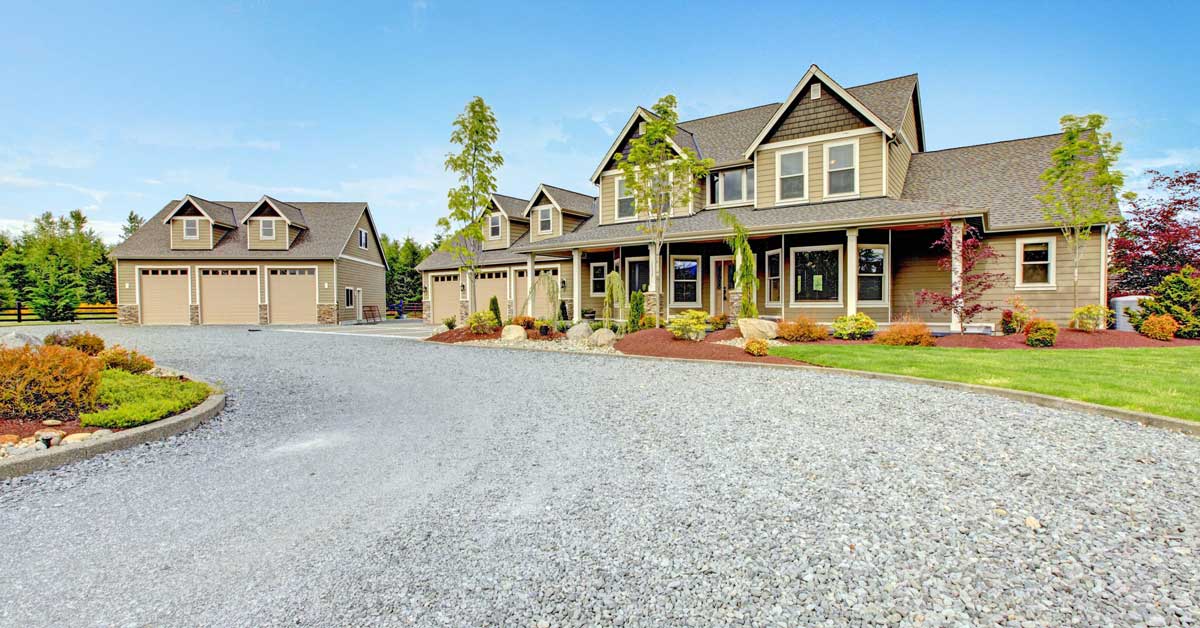 Maintenance of gravel can be a little tricky. The stones, as you might image, can get everywhere, so homeowners may need to clean them out of the grass and off the connecting or surrounding paths.
What's more, gravel needs to be de-weeded if right beside the garden, as some pesky plant-life can grow through it. What's more, as the gravel is spread around, the driveway tends to thin.
When that happens, you need to fully replace the top layer. If this isn't taken care of, then potholes can form, and water can gather in unsightly and inconvenient puddles.
Driving over gravel and produce plenty of dust and dirt, too, so your cars might need to be washed more regularly.
If you need a larger installation in a rural area and don't mind having to spend a little more time (but a lot less money) looking after a long-lived driveway, gravel can be perfect.
Brick Pavers Driveways
Pavers are shaped stones that slot together like tiles. Paved driveways can be made of bricks, concrete, and other materials, each coming with their own pros and cons.
In general, pavers are a clean, aesthetically pleasing and naturally level option that are significantly easier to clean and maintain than other loose driveway materials.
The small shapes can easily be built to accommodate slopes or make uneven ground even, and they feel much more comfortable underfoot than options like gravel.
For areas prone to ice, frost, or lots of rain, pavers tend to be a lot less slippery than concrete, too, offering better control over your car if your driveway is, in fact, sloped.
Paver driveways can also be used almost immediately after they are installed, needing very little time to settle in place.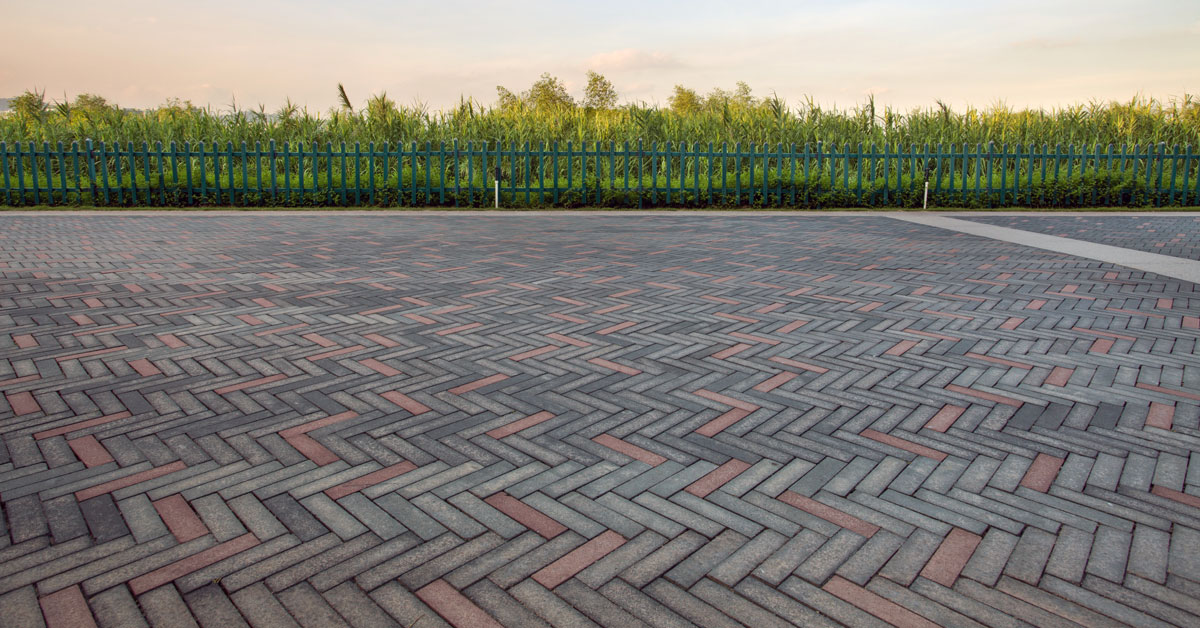 All options do have their cons, however, and when it comes to pavers, cost is one of the biggest detracting factors. Depending on the size of the driveway, the material used, and the shape of the pavers, costs can vary.
Invariably, however, pavers will be more expensive than asphalt or gravel. They take longer to lay, as well, so your drive may be out of commission for a little longer.
Water erosion and freezing and thawing can cause damage, leading to cracks. However, replacing individual pavers isn't too difficult.
If you want to create neat, uniformly aesthetic drive and you have a larger budget, pavers can offer all the design and colour flexibility that you could hope for.
Cobblestone Driveways
While some consider cobblestone to simply be another kind of paver driveway, they have such a distinct look and feel that they deserve their own entry, their own pros and their own cons.
The look of cobblestone, distinctly old world and traditional, is a huge pro in and of itself for many homeowners. That's not to say that aesthetics is all that cobblestones have going for them.
They can last for decades with the right maintenance, which often involves little but washing them and occasionally replacing a cracked cobble. Cobblestone is highly valued, too, and can add real value to a property.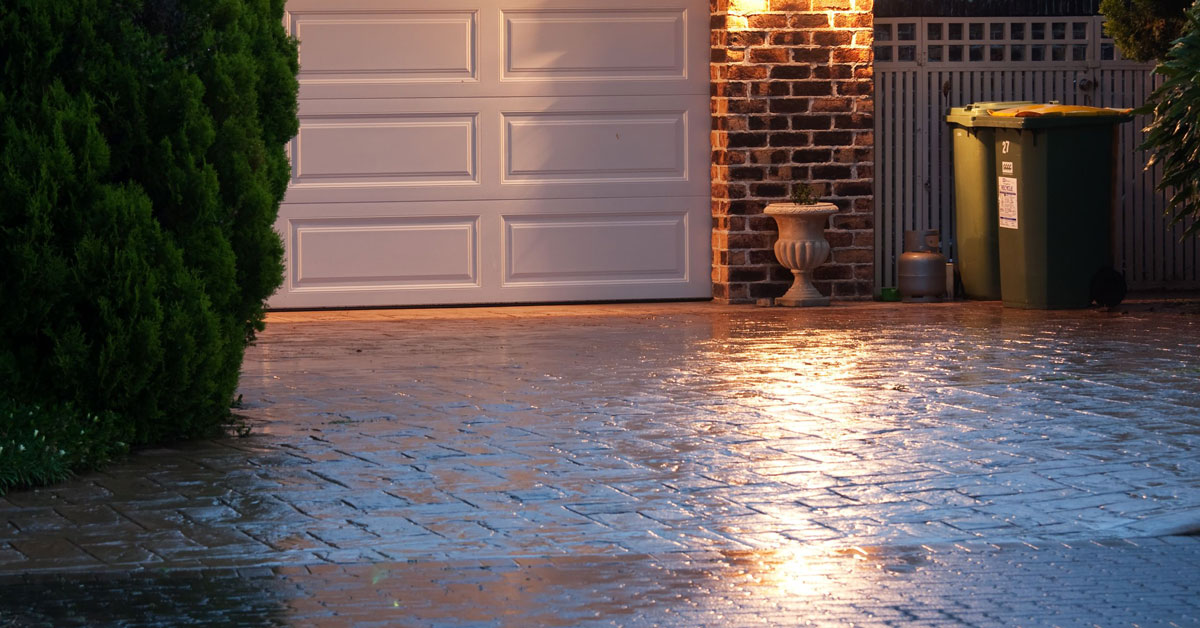 Like concrete pavers, cost is going to be a major consideration when looking at cobblestone driveways. They can be as a much as double the cost of brick pavers per square foot meaning that if you have a larger driveway, you have a considerable expensive project on your hands.
What's more, the surface can be a little uneven, which just means that it can be difficult to thoroughly clean out snow and dirt at times.
If you live in an upscale neighbourhood or a historical property, then cobblestone can be just the perfect fit. Just ensure that you have the budget to handle it.
Glass Driveways
If you have never seen or heard of a glass driveway, your first thought about installing them may be just how painful and inconvenient that might be.
Glass driveways aren't sheets or pieces of broken glass. They're smooth chips sealed into a consistent flat surface with resin. One of the biggest advantages is the aesthetic, with a wide range of colours available that allow you to decide the exact look of your driveway.
What's more, most glass driveway providers use recycled glass, so it has some positive environmental effects as well. The resin keeps everything easy to maintain, too, often needing only a wash to remain as effective.
The specific look of glass does not appeal to all buyers, however. In some cases, glass driveways may even hurt the value of a home. On top of that, it is more expensive than other small-form driveway materials like gravel.
Glass is best considered for small-to-medium driveways or if you have specific aesthetic needs for your drive that other materials simply cannot help with.
Basalt Driveways
By far one of the least common driveway types currently available, basalt is also one of the most immediately unique looking materials you can buy.
Tiles of basalt are dark, glossy and smooth. Like paver and other smooth driveway types, basalt also needs very little maintenance. A power wash is often enough to keep it smooth and clean. Even snow and dirt won't stick to it too easily.
What's more, basalt is highly resistant to climate, meaning that extreme cold temperatures won't have much effect. It can heat up a lot under the direct sun, so be careful walking on it with bare feet.
The costs of basalt are the main detractor from whether or not you should buy it. Not only is the material expensive, but few companies are able to work with it so the costs of labour can also be increased.
What's more, to install a basalt drive you also need to do a little work under the surface to give the material a stable, even base to be tiled on top of.
If you have a need for the distinct look of basalt and you can put it in your budget, it's worth considering. For many homeowners, however, it may not be the right option.
Tarmac Driveways
Tarmac is a specific name for the materials used in Tarmac branded tar-and-chip composition. More generically, it is known as "Macadam".
They are easily recognisable, consisting of hot tar on a gravel base, with loose stone chips added to the tar and solidified in place. A flat, even, somewhat flexible surface, it is very cost-effective, being even cheaper than asphalt.
Tarmac is also low-maintenance, only requiring loose stones to be replaced from time to time. It's highly durable, too, resisting high and low temperatures with ease.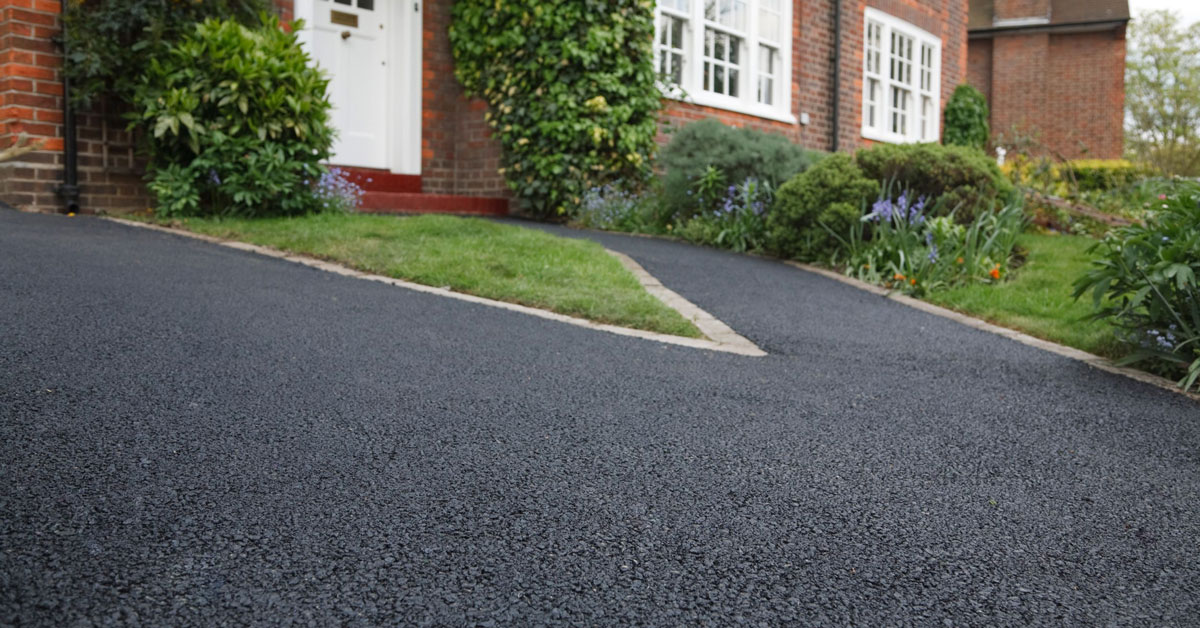 While it is low cost, tarmac can be harder to install simply because there aren't as many contractors installing it as there are for the other materials mentioned. If you live in an area of the UK that sees a lot of snow in the winter, then snow removal can be a hassle as well and can even damage the driveway.
If you can find the right contractor and you have a larger driveway that isn't in a snow climate, tarmac might be the right solution for you. Requiring no sealant or extra work, they are relatively cheap and easy to install.
Resin Driveways
A Resin bound driveway is a combination of your choice of construction aggregate, such as gravel or stone, mixed with Polyurethane resin. This provides a permeable driveway option that fits the Sustainable Urban Drainage System(SUDS) standards which means that you may not need to acquire planning permission, avoiding an additional increase to your new driveway cost.
Resin bound driveways are a great choice for aesthetics and also practicality as it is relatively simple to maintain and is resistant to extreme variations in temperature, these are primarily the reasons for the spike in popularity of this driveway type. 
Resin driveway colours will depend on the aggregate that you choose, with the resin being poured on top to form a transparent seal covering the driveway.
Different types of resin can be used, with some being more suitable for indoor over outdoor use. If you are opting for a resin driveway, it is important to double-check with your chosen contractor and their driveway resin suppliers to ensure that the correct resin is being used. This is because some types of resin can be affected by UV rays which may result in an undesirable change in colour to your driveway.
The resin driveway cost will vary depending on the size and depth of the drive, the quality of the resin used & the aggregate you have chosen, with the most popular being the resin gravel driveway.
Also, bear in mind that a level surface is ideal due to the nature of the application of resin driveways, meaning sloped driveway ideas may not be suitable for this option.
If you are considering this as one of your driveway ideas, please give us a call for more information!
Conclusion
There are a lot of different factors that go into choosing the right driveway for your home.
Cost, maintenance, longevity and aesthetic appeal are all important in their own right. Regardless of which driveway type you choose, ensure you have the right team to install it.
Get in touch with Complete Drives & Patios Ltd at 01702 667338 (CLICK TO CALL) to discuss turning your driveway ideas into a reality.
---